Joseph Echavarria – Attorney Profile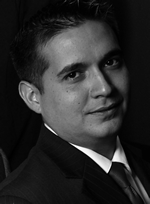 Joseph EchavarriaJoseph Rogelio Echavarria was born on the island of Crete in the Country of Greece, but was raised in San Antonio, Texas. He is currently an Associate Attorney at Carabin & Shaw P.C. Mr. Echavarria graduated summa cum laude from the University of Texas at San Antonio, receiving a degree in Political Science and a degree in Criminal Justice. Mr. Echavarria went on to attend Southern Methodist University where he was case note/comment editor for the SMU Computer Law Review and Technology Journal. In 2007 he graduated cum laude from SMU and was licensed by the State Bar of Texas the same year.
Mr. Echavarria served as an Assistant Criminal District Attorney for Bexar County for over two years. Since leaving the District Attorney's Office, Mr. Echavarria has concentrated on criminal defense.